Bodalla Dairy Cheese Factory & Cafe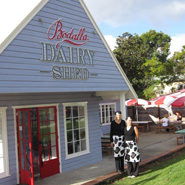 Say Bodalla, say 'Cheese'!
A 'must do' on the South Coast is a visit to Bodalla Dairy Cheese Factory and Cafe. Every morning fresh milk comes in from the dairy to make delicious rustic cheeses with Australian native flavours, traditional milkshakes, dreamy coffees, yoghurt and ice-creams.
You can spend the whole morning or afternoon here with so much to do. Meet the cheese makers and watch them making the cheese through the large viewing windows, have fun feeding their potty calves with a bottle, visit the Cheese Education Centre and watch a milking shed up close in full throttle or learn about the history of Bodalla or... just relax the picturesque gardens or the deck overlooking the family's dairy farm with a cheese platter or picnic and glass of wine. There is plenty room for the children to play safely away from the cars so you can put your feet up with true peace of mind.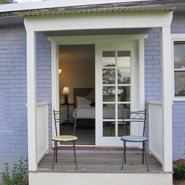 The menu here pays homage to cheese with cheese burgers, Ozzy Cheezy Toasties, quiches and salads. Eat inside and you will feel like you are stepping back in time – laminex tables, vinyl chairs and a 1950's Juke Box!
The Friday night dinners have become something of folklore – cooked in huge open fire places (either inside or out) or in the Camp Ovens! On Friday and Saturday nights in January. Great option for families, big parties and weddings from All Saints Church.
The family and team behind the Bodalla Dairy have worked hard to achieve something the whole family will enjoy and learn a lot from. Oh, did we mention that you can also stay the night there.
A MUST visit - The award winning Bodalla Dairy Shed!
Cheese factory and Retro Cafe Milkbar
Sip delicious Thick Shedshakes by the idyllic lake, Camp Oven Dinners and Pizzas on Friday Nights from 5pm

Bodalla: Located between Moruya and Narooma on the Princes Highway
Last Updated: 21/12/2011
Bodalla Dairy Cheese Factory & Cafe
52 Princes Highway, Bodalla NSW 2545
OPEN 7 Days, 9.30am to 5pm
Phone: (02) 4473 5555
website: www.bodalladairyshed.com.au