Bodalla Books
A history - Bodalla and the Morts - $40
Bodalla and the Morts is a fascinating account of Thomas Sutcliffe Mort and his family's long association with Bodalla by local historian and rural journalist Laurelle Pacey.
Mort was one of the great figures of trade and industry in Australia in the nineteenth century with enterprises ranging from the auction of wool and pastoral properties, building ships and railway locomotives, mining, and a pioneering role in Australia's export trade in frozen meat.
He acquired the Bodalla Estate unencumbered in 1860 initially as his country residence, but went on at Bodalla to show how cheesemaking in Australia could move from being a cottage to a factory industry.
The author has drawn on an extraordinary wealth of primary source material including Bodalla Company records, Mort family correspondence and diaries, over a thousand contemporary newspaper reports, and hundreds of early Mort family photographs.
"My aim has been to try to understand Thomas Mort's expectations of Bodalla, the people who featured in the Bodalla Estate's operation over the years, the Estate's changing fortunes, the family's affection for the area, their sale of the Bodalla Company in 1987 to Panfida in its bid to control the Sydney milk market, and the subsequent break-up of the Estate," she said.
The 144 page book has over 160 images including maps.
Buy Bodalla and the Morts from…
Selected bookshops, visitors' centres, newsagents and galleries from Moruya to Bega, including Bodalla Motorcycles and Power Equipment, Bodalla Bakery, the Dairy Shed and Bodalla Gallery;
from the author $49 (including post and packaging – L Pacey, PO Box 439, Narooma NSW 2546).
The Bodalla Estaste Book - $25.00
By Helen Townend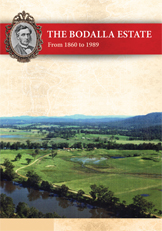 Using "voices from the past", the Bodalla Estate book is an extraordinarily valuable historical record of the development and establishment of the dairy industry in early Australian European history through to modern times.
The story begins with TS Mort's 1860 decision to establish a single vast integrated dairy farming estate & butter & cheese manufacturing enterprise over 50,000 acres of land at Bodalla.
A series of eye-witness documents, quoted exactly as written at a particular time, describe in detail how this huge estate was established, the landscape, buildings, workers, practices, regulations, facilities etc & the difficulties and successes of daily milking & cheese making.
Beginning in 1860, the original reports continue through the years to the final outcome for the "Bodalla Estate" in 1989. This book provides a rare opportunity to present to the reader an accurate a view of history as is possible.
Buy The Bodalla Estate Book, details below.
Available from the Moruya & District Historical Society Inc.
Telephone: (02) 4474 3224
Address: 85 Campbell St Moruya 2537
$25 + $10 postage & handling