Bodalla Bakery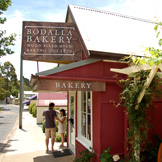 You will be instantly charmed when step inside the café at the Bodalla Bakery. It is pure country charm from the friendly welcome by staff to the traditional country décor - an eclectic collection of old-style white-washed tables and chairs, bright comfy cushions, kitchen dressers and sideboards displaying sale items including quaint ceramic teapots, dainty cups and saucers, tea towels, luxurious hand towels, soaps and other country-style gift lines and beautiful greeting cards.
Whether you are alone or with friends, you will immediately feel at home in this light and bright dining room. Pick up the local paper or magazine from the rack and relax while you enjoy an excellent cup of leaf tea or freshly brewed coffee accompanied by a deliciously sweet treat from the Bakery's selection of scrumptious cakes and pastries freshly baked on the premises in the traditional and authentic woodfired ovens.
Or you may choose to dine on the sunny front terrace with its beautiful displays of potted flowering plants and forged iron and timber furniture made by talented local artist. It is easy to strike up a conversation with the locals who revere our café as a favourite meeting place in town. Before you say goodbye, be sure to go through the door with the huge forged iron gum leaf door handle – you will not be able to resist something extra to take with you on the road! And be sure you come back again!
Open 7 days, 9-4pm
Bodalla Bakery
66 Princes Highway, Bodalla NSW 2545
T 4473 5213 M 0402 036 265